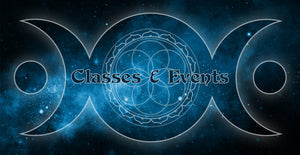 Cosmic Delights
Classes and Events
Regular price
$0.00
$0.00
Unit price
per
PSYCHIC READING SESSIONS
with Brenda Hammon
May 5, 8 and 26
Noon - 6 pm
Brenda Hammon possesses a natural talent as a Psychic Medium, an Intuitive Lightworker, and has dedicated her life to the study of spirituality. 
BOOK A 30 Min Session
BOOK A 60 Min Session

PSYCHICS UNITE
Support, Networking, Psychic Play & Practice
Come join us and learn more about yourself and the others in your community!

Every other Today at 6:30 pm 
Next meeting is on 4/24, then 5/8
MAGICAL HERBAL APOTHECARY PART 1
with Jennifer Helmer
Elixirs, incense, and potions - oh my!
Sunday May 21st  2-4pm - $30
Herbal Apothecary - Making Herbal Medicines
with Jennifer Helmer
No medicine chest is complete without natural herbal remedies made by you!
Sunday August 13th – Time 1-3pm
EUREKA ASTROLOGY AND HEALING BIRTH CHART READINGS
with Jennifer Helmer
Sunday April 30th - Sunday July 30th - Sunday November 5th

An astrological consultation is great for someone who wants to more deeply understand themselves through the exploration of how the planets are expressed within their chart.
---