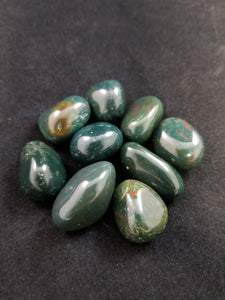 Cosmic Delights
Bloodstone Tumbled
Regular price
$2.00
$0.00
Unit price
per
Approximately 2cm

Bloodstone is described as protective and nurturing and provides you with many metaphysical benefits. It can dispel anger, protect from deception, and bestow upon you an incredible charisma. It will increase your mental vitality and clarity, balance your mind, link your root and heart chakras and stimulate kundalini energy movement. Bloodstone also protects from bullying and threats, increases courage and motivation, aids decision-making skills, encourages prosperity and good fortune, eases difficulties and misunderstandings between mother and child, fosters self-worth, self-sufficiency and self-confidence, and more.

These stones are assorted, what you get is what you get, and are each stone sold individually.
Always remember, Cosmic Delights is your source for exceptional gift ideas and unique merchandise ranging from Jewelry, Incense, Crystals, and more! You can browse from the selection here, or stop in the store at 2717 E. Washington Ave. in Madison, WI for the full range of products available.
---