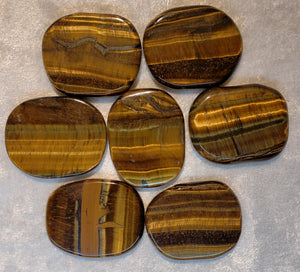 Cosmic Delights
Tiger's Eye Rounds
Regular price
$9.00
$0.00
Unit price
per
These highly chatoyant Tiger's Eye Rounds measure roughly 1.5" x 1.75" and are .25" thick.
Tiger's Eye is a stone that helps you discover your authentic self through testing your perceived limitations. It is known for its combination of properties that promote vitality and physical action. By activating and cleansing the third chakra, Tiger's Eye helps you stay grounded and centered, even if you're surrounded by chaos. If you are feeling blocked, Tiger's Eye can give you the boost of personal power you need to move forward.
Always remember, Cosmic Delights is your source for exceptional gift ideas and unique merchandise ranging from Jewelry, Incense, Crystals, and more! You can browse from the selection here, or stop in the store at 2717 E. Washington Ave. in Madison, WI for the full range of products available.
---