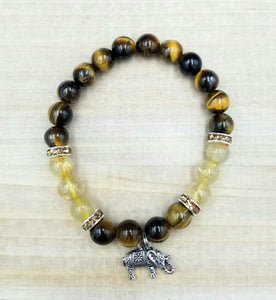 Cosmic Delights
Tigers Eye and Rutile Elephant Charm Bracelet
Regular price
$18.00
$0.00
Unit price
per
A stone of protection, Tiger Eye may also bring good luck to the wearer.  It has the power to focus the mind, promoting mental clarity, assisting us to resolve problems objectively and unclouded by emotions.  Particularly useful for healing psychosomatic illnesses, dispelling fear and anxiety.  Useful for recognizing one's own needs in relation to the needs of others.  Balancing yin-yang and energizing the emotional body, Tiger Eye stabilizes mood swings, imbues us with willpower, purpose, courage and self-confidence, and releases tension.
Rutilated Quartz is an illuminator for the soul, promoting spiritual growth. It cleanses and energizes the aura. Draws off negative energy and disease, letting go of the past. Rutilated Quartz gives protection against the ill thoughts of others.
Many African cultures revere the African Elephant as a symbol of strength and power. It is also praised for its size, longevity, stamina, mental faculties, cooperative spirit, and loyalty. South Africa, uses Elephant tusks in their coat of arms to represent wisdom, strength, moderation and eternity.
---