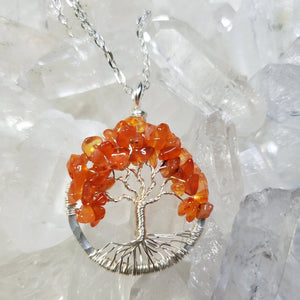 Ilia
Silver Sacral Chakra Tree Of Life Pendant with Carnelian
Regular price
$40.00
$0.00
Unit price
per
Handmade with Love by iliamna rose
Sacral Chakra: Promotes our ability to enjoy life in physical ways; governs our well being, our sense of deserving a good life, and our capacity to develop a sense of abundance.
Zodiac: Virgo
Carnelian: Stabilizing Stone- High Energy. Stimulates Creativity and Courage.
Dispels Apathy and Motivates Success.
The Tree of Life is a Universal symbol found in many spiritual traditions around the world. It Symbolizes life itself, with its branches reaching for the heavens " Father Sky" and it's buried roots, linking to
"Mother Earth". Many ancient mythical stories come from the earth; the source of life and sustenance for all. Legend says the Sacred Dove sits in the branches of the Tree Of Life and appears with the fruit of the tree and the waters of life. The Tree has become a symbol of Love, Wisdom, Re-Birth, Strength, Redemption , Friendship, Bounty and Encouragement.
---