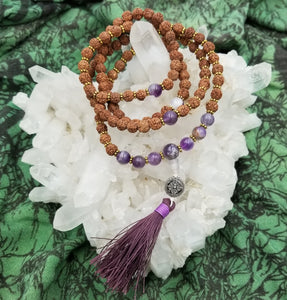 Cosmic Delights
Rudraksha and Amethyst Mala
Regular price
$20.00
$0.00
Unit price
per
Rudraksha and Amethyst 108 beads Mala Necklace in hand knotted mala with tassel. The Combination of Rudraksha and Amethyst makes the Mala look beautiful as both are Powerful Natural elements - Gifts of Nature to us.
Rudraksha have been traditionally used as prayer beads. They are associated with Lord Shiva and the name Rudraksha translates to the Shiva's tears. They commonly worn by his devotees. They are worn as a form of protection as they have unique vibration and are said to provide a kind of protective energy and Lord Shiva's blessings to the wearer.
Amethyst is a gemstone that signifies Creativity, Passion and Spirituality. It helps in providing clarity of Thoughts and is associated with Crown Chakra. It protects from negative energies and provides protection and good health. It helps in greater understanding and expanding the horizons of the mind which increases Creativity and Ideas generation ability of the mind.
---