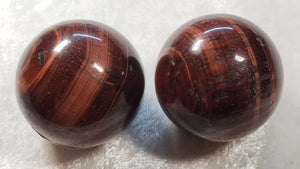 Cosmic Delights
Red Tiger's Eye Spheres
Regular price
$30.00
$0.00
Unit price
per
Red Tiger Eye aids in enhancing confidence and self-esteem. It provides motivation to the non-motivated and energizes those who are feeling lethargic.
It's a highly calming stone that will keep you relaxed and centered even if you lead a very busy or chaotic life.
When you work with the energies of this stone, you will have peace and harmony wherever you are, whoever you're with, and whatever you're doing.
These enchanting Red Tiger's Eye spheres measure 1.5" in diameter.
---