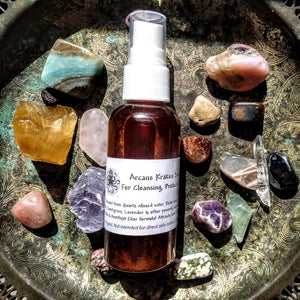 Cosmic Delights
Arcane Kraken Smokeless Smudge Spray
Regular price
$12.00
$0.00
Unit price
per
NEW AND IMPROVED! Now with Rose Petals and Amethyst Elixir!
Ravens Enchanted Smokeless Smudge spray is formulated for cleansing, protection and space clearing. It is a fantastic alternative to burning sage or other smudges, plus it smells GREAT!
This potion is brewed from quartz crystal infused water charged with Reiki energy and Magical purpose.
Includes Sage, Cedar, Sweetgrass, Lavender and other powerful herbs and oils. 
Alcohol and mint free.
100% Vegan - No animal testing
Handmade in Wisconsin by Raven herself!
---