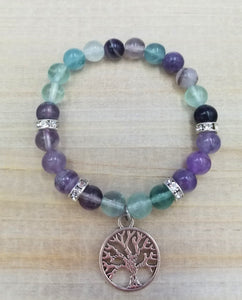 Cosmic Delights
Rainbow Fluorite and Amethyst w/Tree
Regular price
$16.00
$0.00
Unit price
per
Rainbow Fluorite and Amethyst Tree of Life Charm Bracelet
This bracelet is a beautiful combination of two stone beads with a tree charm and 4 sparkling spacers. 
Rainbow Fluorite has a calming energy, bringing order to a chaotic mind and facilitating clear verbalization of ideas once muddled. Rainbow Fluorite cleanses, stabilizes and protects the aura, and improves physical and mental coordination.
Amethyst is a natural tranquilizer, it relieves stress and strain, soothes irritability, balances mood swings, dispels anger, rage, fear, and anxiety. Alleviates sadness and grief, and dissolves negativity. Amethyst activates spiritual awareness, opens intuition, and enhances psychic abilities.
Appx 2.5" Diameter Unstretched
---