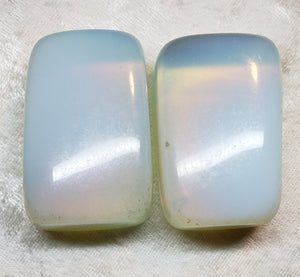 Cosmic Delights
Opalite (Cubish)
Regular price
$15.00
$0.00
Unit price
per
Opalite is a man-made glass resin that majorly contains the mineral dolomite combined with metal.
Opalite is a popular healing gemstone that is also known by the names of opalized glass, Sea Opal, as well as The Stone of Eternity.
Opalite is also subtle yet highly energetic.  It is ideal for meditation.  Opalite improves communication on all levels, especially the spiritual.  It removes energy blockages of the chakras and meridians.  Emotionally, Opalite helps by assisting during transitions of all kinds.  It engenders persistence and gives us strength in verbalising our hidden feelings.  It can also help us to be successful in business.
Always remember, Cosmic Delights is your source for exceptional gift ideas and unique merchandise ranging from Jewelry, Incense, Crystals, and more! You can browse from the selection here, or stop in the store at 2717 E. Washington Ave. in Madison, WI for the full range of products available.
---