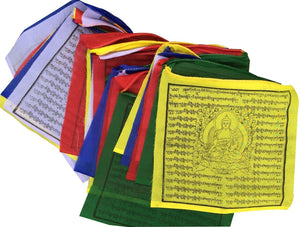 Cosmic Delights
Medicine Buddha Tibetan Prayer Flags from Nepal
Regular price
$10.00
$0.00
Unit price
per
The mantra of Medicine Buddha is "Tayata Om Bekandze Bekandze Maha-Bekandze Randza Samudgate Svaha". It's believed that reciting this mantra has a healing effect and one can eliminate sickness in the body and gain long life.
This listing is for a large roll of prayer flags and there are 25 flags in the roll and each flag measures 9.5 inches inches by 9 inches. Each of the flag has Medicine Buddha Designs and prayers and mantras. The prayer flags are handmade in Kathmandu Nepal.

Prayer flags are usually to hang indoor and out on roof top or top of mountains that the wind blows and releases prayers into the universe and create a warm environment. In Tibet, Nepal or India, you can see prayer flags on the hill top or on the temple or stupas.

You will receive one roll of Tibetan Prayer flags and the roll contains 25 flags and each flag measures 9 inches by 9.5 inches.

There are five different colors which are red, yellow, green, blue and white and they represent five elements. The flags are made and printed in Kathmandu Nepal.
---