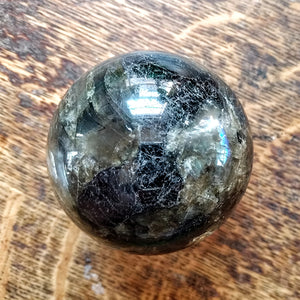 Cosmic Delights
Labradorite Sphere
Regular price
$55.00
$0.00
Unit price
per
Labradorite is considered a tremendously spiritual stone, especially helpful for people who tend to overwork. It helps an individual regain energy while aiding the body and spirit in healing itself. In the metaphysical world, labradorite is considered one of the most powerful protectors.
Labradorite is a member of the Feldspar family and is treasured for its remarkable play of color, known as labradorescence. The stone, usually gray-green, dark gray, black, or grayish-white, is composed of aggregate layers that refract light as iridescent flashes of peacock blue, gold, pale green, or coppery red.
This multicolored labradorescent crystal sphere is 2.25" in Diameter.
---