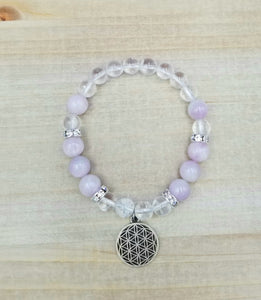 Cosmic Delights
Kunzite and Clear Quartz w/Flower of Life Charm Bracelet
Regular price
$33.00
$0.00
Unit price
per
A joyful stone, kunzite opens and connects the heart with the mind, encouraging communion between the two. While wearing kunzite, it is thought you are better able to experience and reciprocate love. Kunzite is also believed to help heal heartache and calm nerves. Associated with the Heart Chakra.
Clear Quartz  enhances psychic abilities. It aids concentration and unlocks memory. Stimulates the immune system and brings the body into balance. Clear Quartz (Crystal Quartz, Rock Crystal) harmonises all the chakras and aligns the subtle bodies.
The Flower of Life symbolizes creation and reminds us of the unity of everything: we're all built from the same blueprint.
---