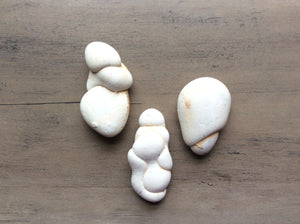 Cosmic Delights
Fairy Stones - Assorted
Regular price
$8.00
$0.00
Unit price
per
Fairy Stones - Assorted
These stones were carried by water over a long period of time and deposited on the shores of Northern Quebec's lakes and rivers. Each stone is unique and shaped by nature. The irregular lines on some of them are due to traces left by tiny worms or debris that have fossilized over thousands of years.
Fairy Stones were often carried as luck charms by Native Americans and were often placed in their homes to be used as protection against bad spirits.

Stones are approx 3" x 3" and weigh between 45 and 65 grams

You may or may not receive a stone in the picture.
The pictures are a good representation of the Fairy Stone you will receive.
---