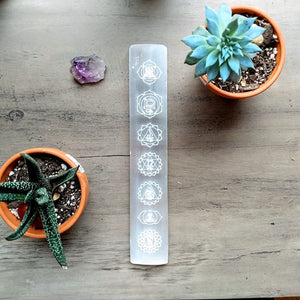 Cosmic Delights
ENGRAVED CHAKRA SELENITE CHARGING BAR
Regular price
$35.00
$0.00
Unit price
per
Selenite is the ideal crystal for all types of energy clearing!
These stunning Chakra selenite bars feature the symbols for the seven main Chakra energy centres.

Use for charging and cleansing your chakra crystals or as a base for a chakra layout. Perfect for energy cleansing and mediation!

ABOUT SELENITE
Selenite is a stone for intensifying energies. It allows negative energies to be drained from within and instills a sense of calm and peace. This stone is said to offer clarity of mind and spirit, especially dreams, therefore, Selenite represents Intensity and Lucidity.
Handcrafted seven chakras on the selenite bars to help you during your spiritual journey and chakra healing.
Selenite crystals also magnify the energy of any other gemstone that is placed upon it, making it perfect for reactivating and recharging your jewelry and other healing crystals. It is a very delicate gemstone that promotes serenity and spiritual growth.

*Selenite can be brittle and may dissolve when wet. It is therefore advisable to use a method of cleansing your crystal that doesn't involve water.


dim: approx 8''x 1.5''
---