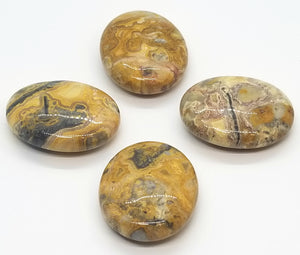 Cosmic Delights
Crazy Lace Agate Pillows
Regular price
$10.00
$0.00
Unit price
per
Approximately 1.75 inches x 1.5 inches and .5" thick (4.5cm by 3.5cm)

Crazy Lace Agate helps one to reach high physical levels. It helps to bring energy into a balanced and steady state. It helps you to laugh and find joy in stressful situations and to comprehend the crazy world that spins around you.
Agates are also grounding and help to bring about emotional, physical, and intellectual balance in life by harmonizing the yin and yang - the positive and negative forces that hold together the universe.

Always remember, Cosmic Delights is your source for exceptional gift ideas and unique merchandise ranging from Jewelry, Incense, Crystals, and more! You can browse from the selection here, or stop in the store at 2717 E. Washington Ave. in Madison, WI for the full range of products available.

*These stones are assorted, what you get is what you get, and are sold individually*

---