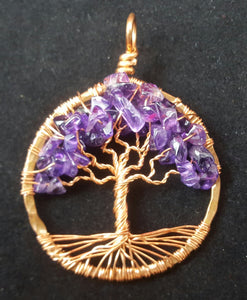 Ilia
Copper Tree of Life Pendant with Amethyst Chips
Regular price
$35.00
$0.00
Unit price
per
The Tree Of Life is a Universal symbol found in many spiritual traditions around the world. It symbolizes life itself, with its branches reaching for the heavens "Father Sky" and it's buried roots, linking to "Mother Earth". Many ancient mythical stories come from the idea that all living beings are born from the earth; the source of life and sustenance for all. Legend says The Sacred Dove sits in the branches of the Tree of Life and appears with the fruit of the tree and the waters of life. The Tree has become a symbol of Love, Wisdom, Re-Birth, Strength, Redemption, Friendship, Bounty and Encouragement.
This pendant contains Amethyst crystal chips woven into a copper wire tree. 
Each tree is handcrafted by Iliamna Moonbeam
Large Trees are 1.5" width x 2" height 
Small Trees are 1 1/4" width x 1 3/4" height
Always remember, Cosmic Delights is your source for exceptional gift ideas and unique merchandise ranging from Jewelry, Incense, Crystals, and more! You can browse from the selection here, or stop in the store at 2717 E. Washington Ave. in Madison, WI for the full range of products available.
---