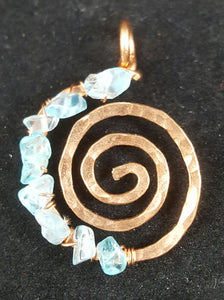 Ilia
Copper Spiral Pendant with Apatite Crystal Chips
Regular price
$25.00
$0.00
Unit price
per
Some consider the spiral to be a symbol of the spiritual journey. It is also considered to represent the evolutionary process of learning and growing. It seems that life doesn't proceed in a straight line, the path more closely resembles a spiral. We seem to pass the same point over and over again but from a different perspective each time. To walk and then stand in the center of a spiral or labyrinth has been a psycho-spiritual exercise for centering the consciousness. The spiral stands for centering the being. 
This copper spiral pendant measures 1" wide x 1 1/4" tall.
Always remember, Cosmic Delights is your source for exceptional gift ideas and unique merchandise ranging from Jewelry, Incense, Crystals, and more! You can browse from the selection here, or stop in the store at 2717 E. Washington Ave. in Madison, WI for the full range of products available.
---