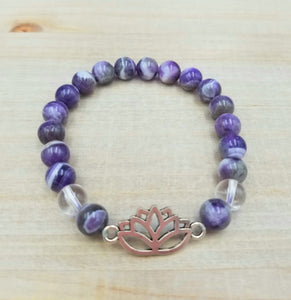 Cosmic Delights
Chevron and Clear Quartz Lotus Charm Bracelet
Regular price
$16.00
$0.00
Unit price
per
Chevron Amethyst is a combination of Amethyst and White Quartz, mixed together in a V-striped or banded pattern. Chevron Amethyst combines the strengthening and enhancing qualities of Quartz with the stress relieving qualities of Amethyst. This symbiotic combination of minerals lends itself to a wonderfully spiritual stone, which is great for gently removing the veils that obscure some of the hidden meanings in life.
Chevron Amethyst is one of the best stones to work with the Third Eye Chakra, enhancing both intuition and physical vision on all planes of existence.
Chevron Amethyst is also said to deepen the meditative state, enhancing the quality and frequency of visions and inspiration from higher realms.
The Lotus flower is regarded in many different cultures, especially in eastern religions, as a symbol of purity, enlightenment, self-regeneration and rebirth. Its characteristics are a perfect analogy for the human condition: even when its roots are in the dirtiest waters, the Lotus produces the most beautiful flower.
---