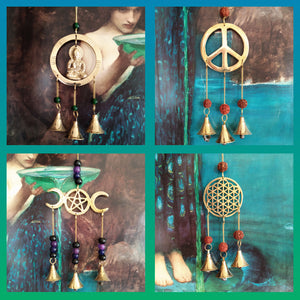 Cosmic Delights
Brass Hanging Bells
Regular price
$15.00
$0.00
Unit price
per
Triple Moon Pentacle Brass Hanging Bells
This magical piece will add color and movement to any altar or space. Representing the Maiden, Mother and Crone, or the three aspects of the goddess, this brass wind chime displays the Triple Moon and a pentacle and rings musically with three small brass bells.
Buddha Brass Hanging Bells
Hang this Solid Brass Lord Buddha Wind Chime Anywhere You Can Use a Little Extra Peace & Calmness!
Peace Brass Hanging bells
Add a Little Peace to Any Room or in a Window View. 
Flower Of Life Brass Hanging Bell
Beautiful Flower of Life emblem with three bells. Attached to the emblem there are three more bells. Perfect for decorating and displaying in your home, office or sacred space! 
Bells hang appx 11"
---