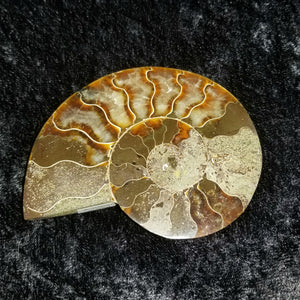 Cosmic Delights
Ammonite Half
Regular price
$25.00
$0.00
Unit price
per
Approximately 3.25 Inches by 2.5 Inches (8cm by 6.5) 
Ammonites are perhaps the most widely known fossil, possessing the typically ribbed spiral-form shell as pictured above. These creatures lived in the seas between 240 - 65 million years ago, when they became extinct along with the dinosaurs, and belong to a group of predators known as cephalopods, which includes their living relatives the octopus, squid, cuttlefish, and nautilus.

The Ammonite is a very powerful earth healing fossil. Its spiral shape symbolizes continual change and evolution. Ammonites have absorbed cosmic energy over eons of time and help to stimulate the life force or Chi within. Ammonites are often used for activating Kundalini and life path energies. The Ammonite draws off all negative energies. The Ammonite spiral is like a filter, drawing in these dense energies which are no longer needed, moving them through the spirals and releasing them as fresh, positive, loving life force energies.
Always remember, Cosmic Delights is your source for exceptional gift ideas and unique merchandise ranging from Jewelry, Incense, Crystals, and more! You can browse from the selection here, or stop in the store at 2717 E. Washington Ave. in Madison, WI for the full range of products available.
---