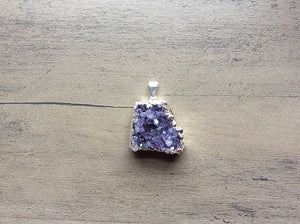 Cosmic Delights
Amethyst Druzy Pendant
Regular price
$20.00
$0.00
Unit price
per
Amethyst Druzy Pendant
Beautiful sparkling natural amethyst druzy stone pendant with a silver electroplated edge.
Amethyst is a gem whose beauty transcends its familiarity. Amethyst soothes the mind and emotions. Amethyst has been used for a variety of health conditions throughout the ages. It is a semi-precious stone in today's classifications, but to the ancients and those with metaphysical knowledge, it is known as a "Gem of Fire" possessing strong unique healing properties. 
Appx 1" x 1" 
Druzy shape may vary from picture.
---