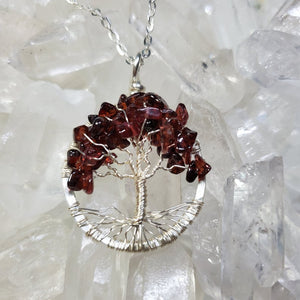 Ilia
Silver Root Chakra Tree Of Life Pendant with Garnet
Regular price
$40.00
$0.00
Unit price
per
Pendant height: 1 1/4 Inches; Pendant width: 1 1/4 Inches
Hand made with love by Iliamna Rose

Root Chakra: Draws energy from the earth's magnetic core; stimulates aggressive drives linked to survival; anchors our spirit in our worldly existence.

Zodiac: Aquarius/Capricorn

Garnet: Increases Health- Balances Energy Flow- Inspires love and devotion.
Cleanses and Re Energizes the Chakras

The Tree of Life is a Universal symbol found in many spiritual traditions around the world. It symbolizes life itself, with its branches reaching for the heavens "Father Sky" and it's buried roots, linking to " Mother Earth". Many ancient mythical stories come from the idea that all living beings are born from the earth; the source of life and sustenance for all. Legend says the Sacred Dove sits in the branches of the Tree of Life and appears with the fruit of the tree and the waters of life. The Tree has become a symbol of Love, Wisdom, Re-Birth, Strength, Redemption, Friendship, Bounty and Encouragement.

---