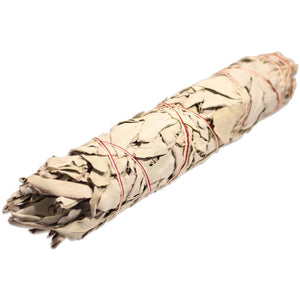 Native Sage
White Sage Wand (Large)
Regular price
$13.00
$0.00
Unit price
per
Here is a nice size white sage wand. 
The wand itself measures roughly 9" long.
About white sage:
Native American tribes were known to use sage for multiple purposes such as healing sessions, space clearing and ceremonies. Many benefits can be gained in utilizing sage for smudging. If you're not familiar with smudging, it's Native American ritual that's like a "spiritual house cleaning" or spiritual purification.
The Latin for sage, 'Salvia,' stems from the word 'to heal.' The other qualities of sage when burned, such as giving wisdom, clarity and increasing spiritual awareness, are also indicated in the name. It's no accident that we refer to wise people as sagely.
The benefits of burning sage can be harnessed very simply by burning sage in your home, office or any other place in need of cleansing.
Sage burning cleansing rituals can be as elaborate or as simple as you want them to be, but it's of the highest importance that your intention be clear before you begin. If you are burning sage to purify a space, or a person (even yourself) then this needs to be clearly planted in your mind before you the light the sage, and while taking the smoke around a home, or through a space.
Be careful not to breathe in the smoke directly, and not to fill the area too thickly with smoke—this is not a fumigation, just a cleansing, so no need to go overboard. Then slowly walk around where you are and take the smoke to each area you would like to cleanse. Concentrate on gateway areas, such as windows, doors, closets, as well as hallways. Also concentrate on the corners of a room. Most importantly, use your intuition. If you allow it, your space will usually inform you as to which areas need to be cleansed the most.
---