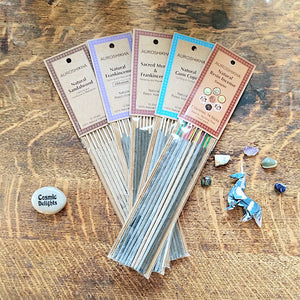 Cosmic Delights
Auroshikha Natural Resin Stick Incense
Regular price
$7.00
$0.00
Unit price
per
AUROSHIKHA NATURAL RESIN INCENSE Pure and natural resin on a convenient incense stick!
Auroshikha Natural Resin Incense is made from the finest raw ingredients—resins and fragrant wood powders with no artificial perfumes or colors. Handcrafted in Pondicherry, India since 1973.
Choose from these all-natural fragrances:
Frankincense
Gum Copal
Sandalwood
Sacred Myrrh & Frankincense
Sampler Pack
Auroshikha Natural Resin sticks measure approximately 12.5 inches long, and the resin-coated portion is about 7.5 inches.
---