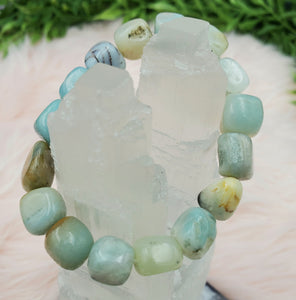 Cosmic Delights
Amazonite Chunky Delight Bracelet
Regular price
$10.00
$0.00
Unit price
per
Chunky, fun and Powerful! These bracelets are lovely alone or combined with others for a customizable look.  
Amazonite is a soothing stone.  It calms the brain and nervous system and aids in maintaining optimum health.  Balances the masculine and feminine energies.  Amazonite helps you to see both sides of a problem or different points of view.  It soothes emotional trauma, alleviating worry and fear.  Dispels negative energy, aggravation and blockages within the nervous system.  Amazonite assists in manifesting universal love.  It protects against electromagnetic pollution and absorbs microwaves.
Amazonite is deeply stimulating to both the Heart and Throat Chakras. The Heart Chakra, located near the center of the breastbone, regulates our interaction with the external world and controls what we embrace and what we resist. It gives us the balancing ability to be ourselves within the environment. The Throat Chakra is the voice of the body. It is, in essence, a pressure valve that allows energy from the other chakras to be expressed. If it is blocked, or out of balance, it can affect the health of the other chakras. When the Throat Chakra is in balance and open, it allows for the expression of what we think and what we feel.
---